Greetings to our beloved neighbors and customers,
We know that these are stressful times but wanted to ensure that Rick's Welding & Eyeglass Repair is still available to help with your frame repairs and Ptosis Crutch installations.
We are still available via email and phone calls! Please stay well, and don't hesitate to call when needed!
Eyeglass Parts & Welding Services in South Elgin, IL
Rick's Welding & Eyeglass Repair also specializes in creating Ptosis Crutches to help treat myasthenia gravis in South Elgin, St Charles, DeKalb, Chicago, and Sycamore, IL. We quickly fix your broken frames, often while you wait. Send them to us, and we typically get them back in your hands within 48 hours of receiving them. It's that easy!
Frame Repair & Soldering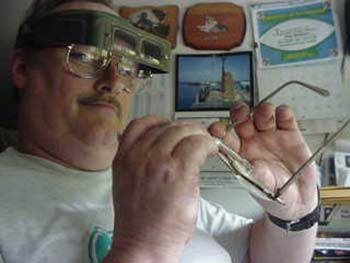 At Rick's Welding & Eyeglass Repair, we know broken glasses make your days difficult. That's why we offer fast, friendly service, to get you back to fully-functioning status in no time. Bring us your broken frames and eyeglass parts for glasses repair in South Elgin, IL and let us restore them while you wait! Our expertise allows us to make most glasses look like new again, same day. For your convenience, you can also send us your glasses. For most repairs, we have those back to you within 48 hours. We use soldering in South Elgin, IL to ensure your glasses are repaired properly and will stand the tests of time and use. Rick's Welding & Eyeglass Repair also specializes in myasthenia gravis treatment in South Elgin, IL. If you suffer from this condition, you know how difficult it can be to maintain healthy vision. We offer a Ptosis Crutch to help those with "droopy eyelids" function normally. This lifestyle-changing appliance allows droopy eyelids to stay focused and opened, while allowing flexibility for blinking. We customize every pair to meet individual needs. Contact us today to see how we can help transform your lifestyle with a Ptosis Crutch, made and distributed exclusively through Rick's Welding & Eyeglass Repair. Our specialty services and eyeglass parts offer many advantages, including:
We are locally owned and operated, established in 1988.
We offer fast fixes and eyeglass parts–while you wait!
We return most glasses within 48 hours of receipt.
We offer the life-changing Ptosis Crutch for those struggling with "droopy eyelids."
We provide soldering for everything from glass frames to car frames.
Fast Fixes
Contact the experts at Rick's Welding & Eyeglass Repair today for precision work that lets you see better tomorrow!
Areas Served
Providing Ptosis Crutches for myasthenia gravis & metal eyeglass frame repairs to the residents of South Elgin, and the surrounding areas of the following:
South Elgin, IL
Elgin, IL
St Charles, IL
Sycamore, IL
DeKalb, IL
Aurora, IL
Schaumburg, IL
Arlington Heights, IL
Crystal Lake, IL
Evanston, IL
Naperville, IL
Chicago, IL
Kane County, IL
DeKalb County, IL
Cook County, IL