To aid people with Blepharospasm or PTOSIS (Myasthenia Gravis) disorder. The Ptosis Eyeglass Crutch is the formed wire mounted to the upper rims of the Glasses.
The Best in Blepharospasm Glasses & Myasthenia Gravis Treatments
The Process:
The Ptosis Crutch is formed to the shape and contour of the eye, using a type of stainless steel wire. The dimensions are measurements taken by the customers OD. or MD. Basically anyone can take the measurements.
Measurements: Step by Step
With the glasses being worn in a normal comfortable position, The measurements are taken from the top of the inner-part of the eyelid, just below the skull bone, right up against the top of the socket at the center of the top of the eyeball, to the inner upper wire of the blepharospasm glasses closest to the eye. Centered on each eye between the bridge in the middle and the temple mount. NOTE! The frames should be made of Metal; not titanium if possible; or plastic. Once the Crutch is attached, I apply the outer protective coating, and give a final adjustment. Basically, that is how it is done.
For further information call: 847-742-4745
For your convenience, we also Accept "PayPal" for payment. We also accept most Major Credit Cards. For questions about custom ptosis glasses, call 847-742-4745:
Send To: Rick's Welding & Eyeglass Repair — 1408 Raymond St.–South Elgin, IL 60177
We also sell Replacement Frames; at a cost affordable to anyone. Call Toll Free.
When it comes to precision soldering, Rick's Welding & Eyeglass Repair has over 35 years of Quality Experience. Our Motto is "From Eyeglass Frames to Car Frames".
Whatever your needs are; Welding, Soldering, or Eyeglass Repair;
Rick's Welding & Eyeglass Repair will get the job done;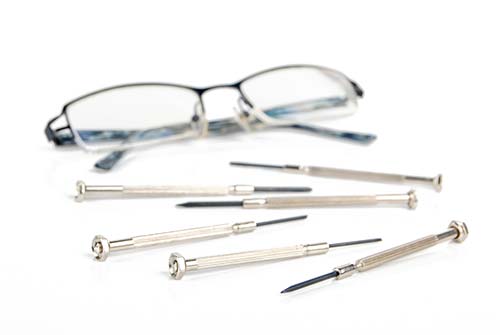 There can be many reasons why a company becomes successful and prospers. There are different ideas and opinions on what makes things work. At Rick's Welding & Eyeglass Repair, we feel that the quality of myasthenia gravis treatments we provide, and the care for our customers is the most important factor in determining our success. Rick's Welding & Eyeglass Repair can create custom ptosis glasses very affordably, provide excellent customer service, and has the ability to ship worldwide.
Naturally, these are just words and all companies seek to market themselves in the highest regard. That is why the ultimate test is a call to us at 847-742-4745 to see for yourself why Rick's Welding & Eyeglass Repair is the best choice in the country for Custom Ptosis Eyeglass Crutches.
We look forward to serving you as we have all of our satisfied clients across South Elgin, St Charles, DeKalb, Chicago, and Sycamore, IL and the USA with our myasthenia gravis treatment options. Contact us today!