Rick's Welding & Eyeglass Repair offers expert services for all your metal eyeglass repair and precision welding needs. We provide specialty services with quick turn-around, at affordable rates. Our complete line of glasses repairs and soldering services include:
Metal eyeglass frame repairs
Are your frames in need of some TLC? If your metal eyeglasses are broken, bent or busted, get them to the experts at Rick's Welding & Eyeglass Repair. We'll have them looking like new in no time. Stop in today or send us your glasses for repair. We can fix them while you wait or get them back to you in a day or two. (Metal frames only please, no plastic).
Eyeglass welding
Do you have a project for us other than eyeglasses? No problem. Our expert welding services are available for projects big and small. We are happy to assist you with anything from eyeglass welding in South Elgin, IL to car frames. Just ask!
Precision soldering/eyeglass soldering
With over 40 years of experience, Rick's Welding & Eyeglass Repair is your go-to source for precision soldering. We specialize in silver brazing, electrical lead, circuit boards, HVAC lines, electronics and more. Virtually anything that needs to be soldered, we can get the job done.
Glasses parts
Do you need parts for your glasses? We offer a variety of glasses parts in South Elgin, IL, as well as replacement frames. Customizing is available, and we are happy to ship our affordable products worldwide.
Ptosis crutches
With our unique skill set, we have developed a life-changing Ptosis Crutch for those who struggle with "droopy eyes." The Crutch is formed to shape the contour of the eye, using a type of stainless steel wire. This appliance allows eyelids to stay focused and opened, while allowing flexibility for blinking. Each of our ptosis glasses is customized and installed for individual use.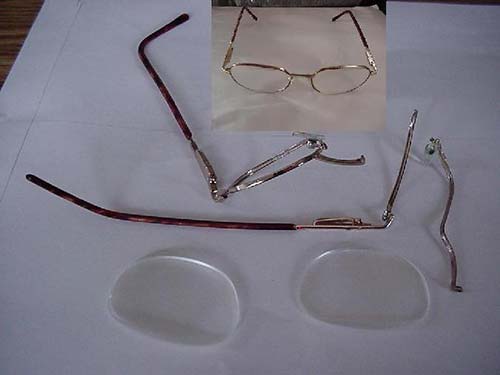 Rick's Welding & Eyeglass Repair
is your go-to source for eyeglass repair in South Elgin, St Charles, DeKalb,
Chicago
, and Sycamore, IL. Our expertise can't be beaten. To ensure your satisfaction, we offer a one-year warranty on all work performed.
Contact us
today at
847-742-4745
with all your eyeglass soldering services and glasses repair needs. We look forward to applying our industry-leading expertise to your project.